Curriculum
T.I.M.E. School follows the Central Board of Secondary Education (C.B.S.E) syllabus and the medium of instruction is English. The curriculum is activity based.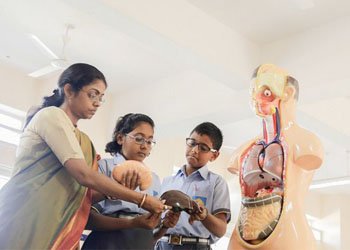 The typical day of T.I.M.E. School scholar begins with prayers and a session that allows them to learn and explore moral values and principles. Their classroom is a place of discovery where the teachers are experienced guides and mentors so that learning becomes a natural process.
We also believe in comprehensive education that not only places emphasis on academics but also includes learning of the arts and sports. To ensure that each student has been able to reach an understanding of the subjects, periodic evaluations are held with appropriate follow-up sessions.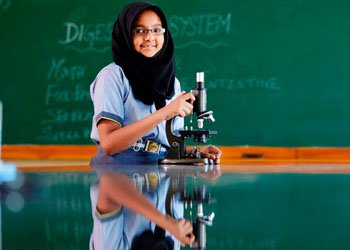 Our Approach:
1. Activity-based teaching
At T.I.M.E. School, all subjects are approached with experiential learning instead of text book based learning. This simply means that all students are allowed to experience first what they will be taught and only then read or learn about it. Some examples of this would be ? tasting different foods and then learning about the function of taste buds, learning about terrace farming by actually making the terrace structures in the earth or learning about plants by going on guided nature walks and field trips. These activities ensure that your child has grounded fundamentals because activity based learning aids in retrieving the information learnt even after your child's schooling is complete.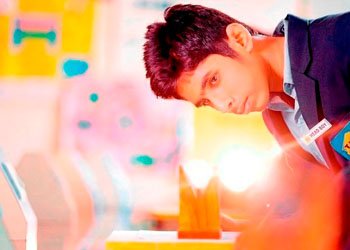 2. Use of time-tested methods
While our teaching methods are those that have been proven repeatedly over the years, we also have a Research and Development (R&D) team that concentrates on finding methods which suit different learning styles and are simple yet easy to understand.
3. Comprehensive curriculum
T.I.M.E. School offers a comprehensive curriculum that prepares your child not just for the exams such as the Indian National Mathematics Olympiad and other competitive examinations but also real world challenges.
Though we follow the CBSE curriculum, we do not hesitate in incorporating other valuable information from other curriculums such as the ICSE, IB, IGCSE, and state boards if it can add an important dimension to your child's learning process.
4. Reinforcing concepts using different methods
We believe that every child has different ways in which they absorb and assimilate information and use different teaching aids and methods to relate information. This results in greater clarity of fundamentals and concepts.
5. All-round development of the child with a solid foundation
At T.I.M.E. School, we have always respected the instrumentality of a strong academic foundation.Our matchless results in the test prep industry are often rightly attributed to consistent quality education. The same kind of concepts used in the domain of schools will ensure that each faculty member focuses on teaching concepts and not just on the child's results or marks.
6. Inclusion of co-curricular & extra-curricular activities
We cherish the fact that the children have many capabilities and with appropriate nurturing they result in infinite possibilities of exploration and discovery for them. To include this in their learning experience at T.I.M.E. School, we have included a range of activities like dance and music, drawing, martial arts, skating, sports, quiz competitions, debates, dramatics and nature appreciation classes.
Children are also given a platform to exhibit their skills during school events such as the Annual Day, Sports Day, Cultural Day and Children's Day.
7. Children learn through hands-on experience with timely and sensitive intervention by adults
Teachers at T.I.M.E. School are facilitators in the learning process of the child. They create an appropriate environment for the child to learn by discovery. Our teachers keep a keen eye on children without interfering with their learning activity and catalyze learning by channelising their efforts in the right direction
8. Regular teacher training
Teachers are also trained periodically to ensure that they remain updated with the latest happenings in the world of education and learning so that they strengthen their inherent prowess in teaching. Our teachers are trained to understand the interest areas of your child and use teaching styles that best suit the learning style that your child is most comfortable with.
9. Respect individual differences
Children learn best when their individuality is given due consideration. Our teachers closely observe children to identify their strengths, abilities, style of learning and method of using information. The purpose of these observations is to show children how they can use their unique and integrated intelligence to solve real problems.
10. IIT foundation course
T.I.M.E. School offers a unique IIT-Foundation programme aimed at students of the 7th, 8th and 9th classes. This program focuses on strengthening the students conceptual clarity of the fundamentals in Mathematics, Physics, Chemistry and Reasoning.
We also offer Basic Communication Skills classes as part of the course for 7th, 8th and 9th classes. Our course and tests are designed in a way that inculcates the habit of application of concepts thereby paving way for effective learning.