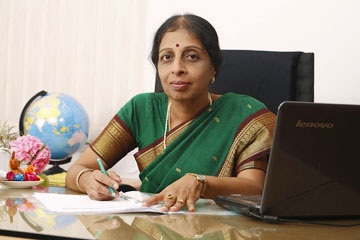 Mrs. Jayashree Iyer
Our Correspondent, Mrs. Jayashree Iyer holds a B.Sc and B.Ed from the prestigious Delhi University, and an M.A. in Political Science from Punjab University (first rank in Directorate).
Her experience in education spans over three decades, including 5 years as the Principal of Vignan Vidyalyam, Nizampet - a school with 2300 students 140 teaching and non teaching staff - and 15 years at St. Xavier School, Orissa. She is an active participant in Media/TV panel discussions and has published a number of articles in leading newspapers and magazines. Her vision is to impart enjoyable and enriching school education.
Some of her awards and achievements are :
"Parichary" and "Kovid" cerificates in Sanskrit by Bhartiya Vidhya Bhawan.
The Sikhya Chakra Award in recognition for the contribution to the development of educational standards of the state of Orissa and her endeavors for promotion of talent.
An Award for excellence in teaching by the Paras Institute of Social Development, Hyderabad. Her track record indicates that Mrs. Iyer was instrumental in motivating teachers and students to achieve the following:
Consistent academic achievement,with students getting meritorious positions in CBSE exams.
Academic years with no failures and all students achieving 'first division' Students being selected for NTSE scholarships.
Student participation and in state and national level sports meets including the under-16 national cricket championship.
Students getting the first prize in dance competition during the International Children's Film festival.